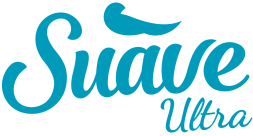 Suave Ultra® is inspiring, optimistic, fresh and contemporary. With the perfect balance between softness and strength, this range of products is manufactured with high-quality paper with 100% virgin fibres and no recycled material.
Suave Ultra® is the only brand manufactured by Trinidad Tissues Ltd. that offers consumers a scented Bathroom Tissue. With the scent located on the core and NOT on the paper, this makes it safe for use on your sensitive areas. The scented core helps keep your bathroom smelling fresh and clean for guests and family. The tissue is also flushable and safe for standard septic and sewer systems.
It offers an ideal solution for your table, kitchen and bathroom with a full portfolio with various size options.