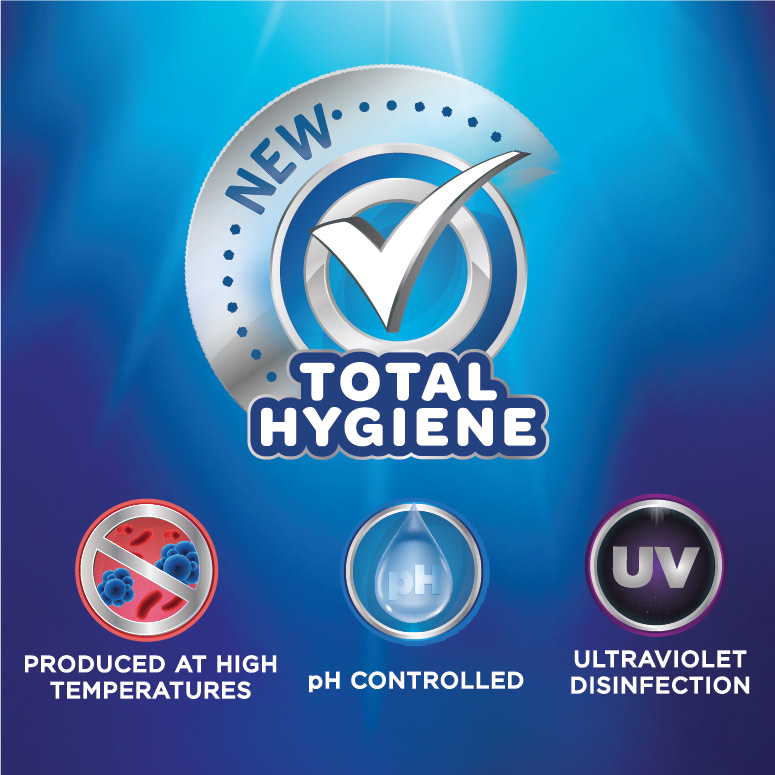 "Changes call for innovation, and innovation leads to progress- Li Keqiang"
Product innovation is not only about developing something new and original, but also about adding value and benefit to already existing products. In response to trends of "The New Normal", GBP's Regional Innovation Teams included an additional stage in the manufacturing process that introduces a new technology to guarantee the hygiene of its Bathroom Tissue brands.
"Total Hygiene" technology was launched this year across all Local and Regional value and premium Bathroom Tissue brands including White Cloud, Soft 'n' Pretty, Suave Gold, Soft Weave, Suave Ultra and So Soft. The innovation offers 3 different technologies for the safety and protection of our consumers.
Ultraviolet-C light technology allows efficient disinfection, destroying 99.9% of bacteria without contact or chemicals.
Process of high temperatures approaching 100°C destroys germs and microorganisms.
pH-controlled product protects delicate areas from irritation by ensuring the product is within the normal pH range of the skin.
Advertising helps to earn profits by making consumers aware of your product and services resulting in more sales. Our customer's shelves were blasted with posters, wobblers, price tags, gondola ends and strong digital media campaigns on all major platforms. The team was able communicate the NEW product innovation to our shoppers and consumers with further visibility executions including radio and TV ads.
Total Hygiene technology not only gives our brands a competitive edge but also gives consumers the added protection and confidence they need – especially at this time.